First Published April 5, 2023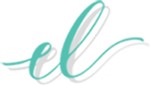 Sparkling & Streamlined

A minimalist take on romance, this pendant joins three rings to create an industrial look with a sprinkling of diamonds. This elevated design is modeled on the age-old "ring on a chain", modernized with a sleekness that looks great with silk as well as denim.

All E.L. pendants come with a chain and our E.L. Hook Closure. This specially designed clasp gives an easier "on and off" experience for wearers – especially perfect for those with hand mobility considerations! Available in Sterling Silver, 14K Gold and two-tone (Silver w/14K Yellow) with five twinkling diamonds.

Available in: Available in: Sterling Silver, 14K Gold, Sterling Silver & 14K Gold (center ring).
0.1tcw from five 1.75mm diamonds (H, SI, 2).
Approximately 1/4" at widest point.
E.L. Designs uses sterling silver and 14k gold for a lifetime of wear. Our jewelry may gain a natural patina over time, as we do not use rhodium or other harmful chemicals in our studios.
All E.L. Designs Jewelry have our quality insignia hallmark.